Buy Retractable & Fixed Awnings in Elkins, WV
Patio, Deck, Window, and Porch Awnings for Homes and Businesses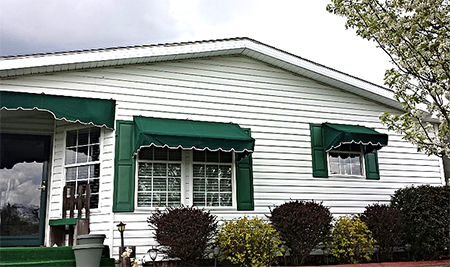 Are you looking for quality awnings for your home or business in West Virginia? Talbott Glass, LLC offers custom awnings manufactured by our trusted partner. For Awning Artistry™, Laurel Awnings is your best choice. A nearly infinite range of color and design choices are available to protect your exterior patio, windows, deck, porch, and furnishings from the sun and weather, while adding privacy with drop awnings, if desired. Rigid and loose-framed awnings are available, as well as retractable shade awnings imported from Italy. Color and fabric choices include:
Choose your favorite fabric and contact us to place your order at: (304) 636-2936. Professional installation is available, or you may choose to install your new awning.
Sturdy Aluminum, Dome, and Drop Awnings for Privacy, Protection, and Style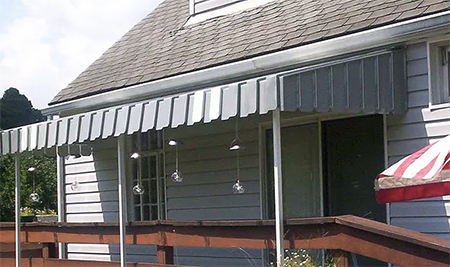 Aluminum Awnings: Custom solid aluminum awnings are available for use over your doors and windows in both step-down and pan & cover styles. If you would like to install an attractive aluminum awning over your wide patio or deck, consider the marquee style.
Dome Awnings: These stylish and sturdy awnings add distinction and an air of sophistication to your front entry door or windows. Constructed from welded, galvanized 16-gauge steel ox channel, these awnings are built to last.
Drop Awnings: For increased privacy on your porch or patio, consider adding drop-down awnings to shield you and your guests from passersby.
Buy Commercial Awnings With Your Company Logo
Commercial awnings are the optimal, cost-effective advertising solution for savvy business owners, in lieu of, or in addition to signage. We can have your company logo placed directly on the awning above your entryway to assist customers with locating your business in an exciting manner. Your awning expresses the personality of your business and provides shade and comfort to your customers as they approach, attracting them to your business with a sense of anticipation. Awnings are ideal for all types of businesses and buildings.
Historic Buildings
Corporate Headquarters
Multi-Unit Housing
Schools
Retail Establishments
Restaurants
Daycare Centers
Country Clubs
Smoking Huts
Funeral Homes
Storefronts
Shopping Centers
Hotels
Resorts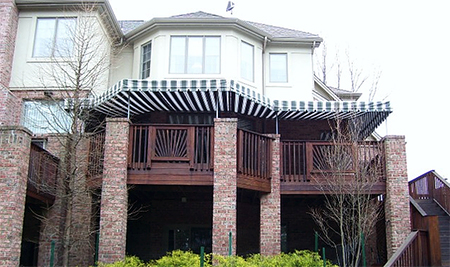 Order Awnings for Sun Protection and Expanded Living Space
Awnings expand your living space, provide sun protection for your family, pets, and customers, significantly enhance curb appeal, and enable you to express your personality with complete customization. Contact Talbott Glass with any awning-related questions that you may have or if you are ready to place your order: (304) 636-2936.