Buy Superior Commercial & Residential Doors in Elkins, WV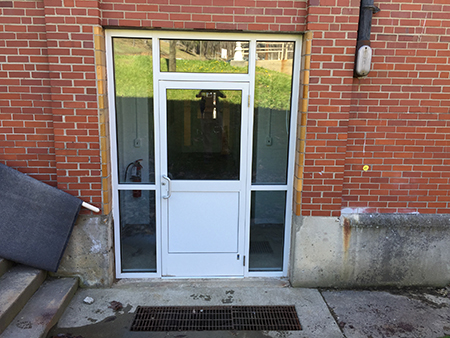 Talbott Glass provides door sales, service, and professional installation in Elkins, and throughout our West Virginia service area. We also sell our superior doors to contractors and do-it-yourselfers for self-installation. Our manufacturers are carefully chosen. We sell glass and steel doors with a wide range of features, options, and colors, from strong, reliable economy models and elegant decorative glass designs to bulletproof doors that can resist attack from an AK-47. Our brands include YKK, Kawneer, and INOBO.
We offer tempered glass doors and entry systems, storefronts, patio doors, and many types of specialty doors that can be very difficult to locate. If you require a specific type of door, contact Talbott Glass first. We have been in the business since 1906 and have an extensive network of contacts in the United States, as well as access to international manufacturers.
Buy YKK Sliding Doors, Storefronts, and Entry Systems
Talbott Glass proudly offers sliding glass terrace and balcony doors ideal for commercial structures including multi-unit housing and hotels. Hurricane and blast mitigation are available features, and exceptional thermal protection is standard. If you operate or are constructing a retail establishment, we recommend storefronts by YKK. Enjoy enhanced ventilation, sun and moisture protection, and blast and break-in resistance with YKK's ProTec system. Magnificent entryways begin and end with YKK. Thermal entrances, missile impact resistance, blast mitigation, one inch thick glazing, and an impressive range of design options make YKK your number one choice for commercial entry systems. All YKK entry doors and systems integrate seamlessly with the complete YKK architectural design line.
Kawneer Commercial Door Sales
Kawneer offers commercial swing door systems, swing and sliding balcony doors, and a range of configurations ideal for storefront and entryways that regularly handle moderate to heavy foot traffic. All models are available in a range of styles and options customizable to meet your architectural and functionality needs.
Kawneer Commercial Entry Doors
Available finishes include:
Simonton INOVO Residential Patio Doors With Blinds Between Glass
Simonton's INOVO patio doors let you have it all: protection from the elements, ENERGY STAR-certified thermal shielding, natural light, and an abundance of style. These sliding glass doors save space and move easily for nearly effortless entry and exit. The available blinds within the glass option keeps cleaning and maintenance to a minimum while enabling you to control the precise amount of light for your home's interior. Swinging options are also available. INOVO patio doors may be purchased in wood, vinyl, aluminum, and fiberglass with a selection of attractive grid options, colors, and insect screens.
Talbott Glass has the perfect door for you. Contact us and let us know what you have in mind and we will assist you with placing your order. Call: (304) 636-2936.