Buy New Construction and Replacement
Windows in Elkins, WV
Order Affordable, Quality Vinyl Windows by Simonton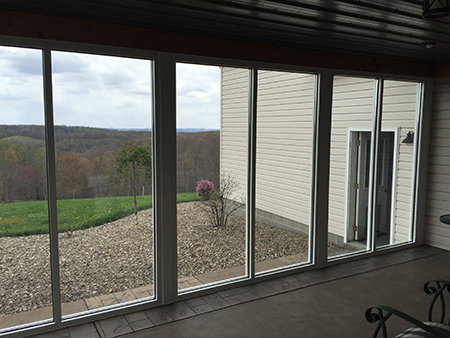 Talbott Glass, LLC is your local factory authorized window supplier for ordering Simonton's extensive lines of new construction and replacement windows. If you are a homeowner or contractor interested in buying windows for your project, we offer exceptional windows at an affordable price for do-it-yourselfers. For those who prefer professional installation, we also provide this service for our customers in Elkins, and throughout our West Virginia service area.
Slider & Single and Double Hung Windows With Moveable Sashes
Double Hung Windows: Open from the bottom and lower from the top; tilt in for easy cleaning
Single Hung Windows: Fixed top with moveable bottom sash; economical and increased energy efficiency
Slider Windows: Wide view and increased ventilation; easy to operate by sliding from the left or right side; ideal replacement for picture windows
Easy Open Casement Windows With Hand Cranks
Casement Windows: Easy-open crank for hard to reach locations; excellent ventilation, views, weather resistance, and energy efficiency
Decorative Bay, Bow, Picture, Geometric, and Garden Windows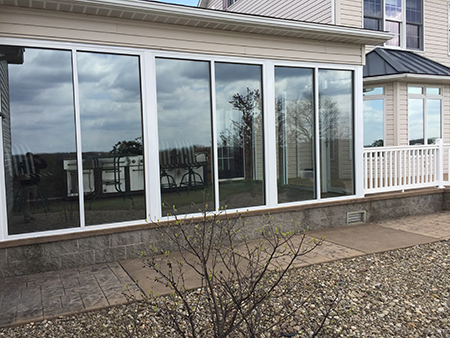 Bay and Bow Windows: Outward projecting window combination for maximum curb appeal
Picture Windows: Energy efficient solid design; available in many sizes; provide light in areas where ventilation is unnecessary
Geometric, Colonial, Oval, Gothic, and Shaped Windows: Add style and light to your home
Garden Windows: Decorative, outward projecting windows; space to insert plants and décor
Simonton Reflections Series Windows
For the widest selection and versatility, we offer the Reflections 5500 and 5050 series windows manufactured by Simonton. Choose from a wide range of styles, including unique eyebrow, hexagon, circle, and triangle shapes, with or without grids, to add character to your home. Available tints include bronze, grey, and privacy tint. A variety of interior and exterior color combinations are available for you to choose from, as well.
Simonton Reflections – 5500 and 5050 Series
Simonton New Construction Contractor Windows
If you are building a new home, Simonton's ProFinish series offers superior energy efficiency, strength, and durability suitable for all applications. For installation ease, nailing fins and j-channel are included. Choose the style, glass, hardware, and colors to match your project, as well as unique grid patterns to enhance curb appeal.
Simonton ProFinish
Simonton Warranty
Contact Talbott Glass for answers to any questions that you may have or to place your order by phone at: (304) 636-2936.