New Construction Window and Door Sales
and Installation in Elkins, WV
Serving General Contractors Since 1906
Talbott Glass, Inc. has been serving general contractors, as well as new residential and commercial property builders since 1906. We offer sales and installation of economy, mid-grade, and premium lines from the nation's finest and most reputable manufacturers, including Simonton's Reflections 5050 Series Windows and Reflections 5500 Premium Windows, as well as their dedicated new construction lines.
We also carry an exciting range of durable products to enhance the beauty and functionality of your new property:
Window Restoration
Custom Mirrors
Mirror, Tabletop, and Furniture Repair
Custom Protective Tabletop Covers
Energy Efficient Insulated Doors and Windows
Glass Entry Systems
Custom Mirrors
Tempered Glass Entrances
Professional Glaziers Offering New Construction Glazing in Elkins, WV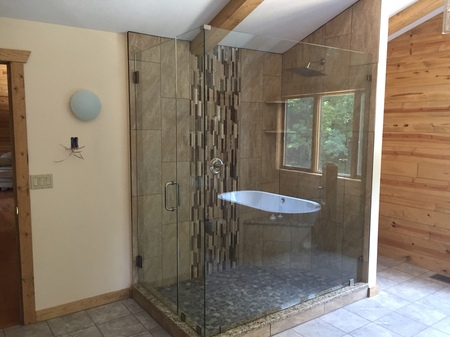 Talbott Glass, LLC's professional glaziers are skilled craftsmen offering comprehensive glass services for new residential and commercial construction projects in Elkins, and throughout our entire West Virginia service area. No matter the size of your project, we will provide efficient, high quality glass installation at a reasonable price. We work closely with you or your head contractor to help keep your project on-time and at budget.
Glass and Glazing for Stores, Restaurants, Hotels, and Office Buildings
We offer insulated, architectural, window, door, storefront, heavy glass, structural, shower and surround, and custom glass glazing services to give your property the special touch required to achieve your aesthetic and functional goals.
Hotels
Hospitals
Stores
Restaurants
Private Residences
Multi-Unit Housing
Government and Municipal
Office Buildings
Specialized, Custom Glazing, Glass, Window, and Door Installation in WV
Your windows and doors reveal the character of your family's values or your business philosophy. Make sure that you are sending the right message to your guests and customers. Whether your aim is a warm, inviting atmosphere, or an austere, professional character, we are here to assist you. Our family has been meeting the specialized glazing and new glass installation needs of residents throughout West Virginia for over 110 years. Allow us to provide the expert guidance and solutions for your project. Whether you already know what type of glass products and services you want or would like to schedule a consultation to review the options that we can provide, we are here for you. Contact Talbott Glass for answers to your questions or to schedule an appointment at: (304) 636-2936.